Come stay with us! Click here for house booking on AirBnB
We are right in the middle of Monteverde, on Curi-Cancha Reserve. Huge windows, soaring beams, and wraparound porch for enjoying the forest with your morning coffee.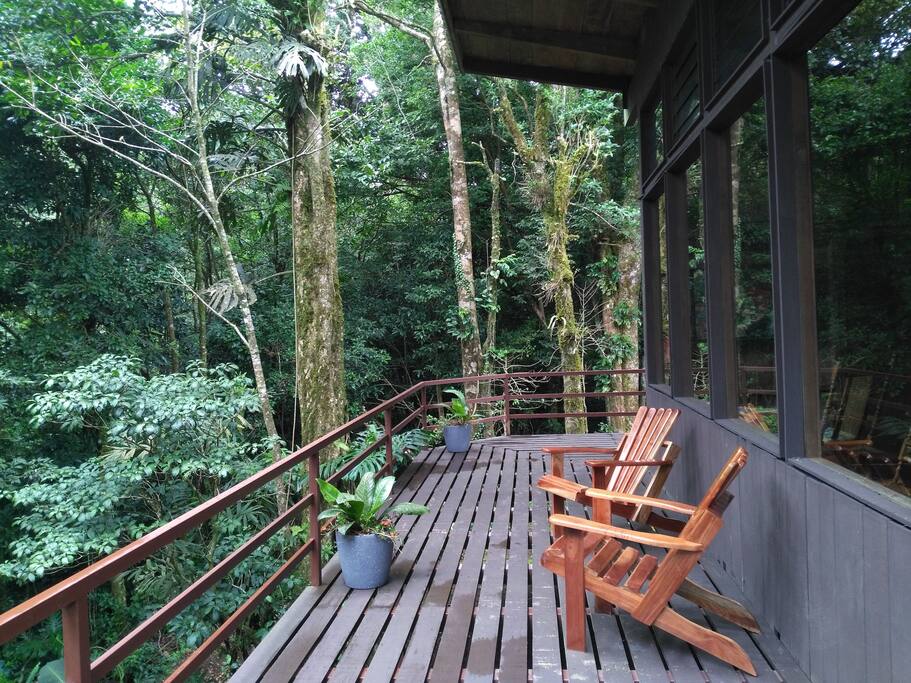 This beautiful house was built with love in the early 50's by Hubert and Mildred Mendenhall, two of the original Quaker settlers. All of their children were born here. My family, the Lowthers, purchased the house and property in 1970. The property is now the Curi-Cancha Reserve and we are very proud that we are able to protect this gorgeous cloud forest and support many local families in an environmentally friendly way. The spacious living room with soaring cedro beams and huge windows looks out on the forest and the large deck. Note the original party line telephone on the wall as you enter. That party line phone no longer operates (although there is a nice modern phone and wifi) as there is no party line to be part of, but we love the way it looks. Linens are provided. I've left a guitar that you are welcome to use and also a number of games: Monopoly, Catan, Code Names, Chess, and several decks of cards. The house has WiFi, full kitchen with extras such as dishwasher, toaster oven, microwave, coffee maker, rice maker, and crock pot. We recently added solar hot water and electricity. The house also has a washing machine, clothes dryer, and indoor garage. There is a bidet in the bathroom. The house sleeps 7 people with 1.5 bathrooms. Firewood is provided.
You have complete use of the 9 rooms and large yard of the house. Guests staying in the house also enjoy a discount on entrance fee to Curi-Cancha Reserve. If you would like a guide (and I HIGHLY recommend that you take one as you will see and learn far more on your walk) you will need to give Mauricio Ramirez, the administrator of Curi-Cancha Reserve, some advance notice by phone or email so that he can set a guide up for you.
The house is very quiet and private at the end of a long lane. Beatriz Salazar, owner/operator of the Cafe Orchid Coffee Shop, lives in a house a hundred meters away and she also manages this house. She will be happy to help you with any questions or needs. We also have a groundskeeper who takes care of the house, grounds, and property and he will be happy to help if you need more firewood or anything else.
Booking link to AirBnB
OUR TOURS
We have the perfect tour for you
We can offer you a walk along beautiful natural trails with an experienced guide and see different species of birds and mammals. If you are looking for something different, walking in the forest at night is a magical experience to enjoy the nightly symphony of frogs and insects. We can also offer you a specialized tour with an expert guide that focuses on bird observation. Or if you prefer, a private a tour catered to your interests.
Click below to discover what each of our tours can offer to you.
* All our tours requires a previous reservation.
CONTACT US
Do you need more information about our tours?
Give us a call at (506) 4002-4560 / (506) 8448-8283
You can also contact us by email: reservascuricancha@gmail.com
Come to visit us! We are in Monteverde, Puntarenas, 300 m Northeast of the Monteverde Cheese Factory.
Do you want to book our tours?
If you want to book a tour with us, please click the following button.
BOOK A TOUR